Our service department at Industrial Electrical Contractors is dedicated to providing prompt and efficient solutions for all your facility needs. From lighting repairs and replacements to equipment drops and other tasks, our team of knowledgeable technicians has the expertise to get the job done right.
We understand that unexpected electrical issues can disrupt your business, so we offer fast response times and cost-effective solutions to minimize downtime. For larger projects, our project teams take the lead to ensure service technicians are available for fast deployment on short-duration tasks.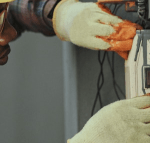 Our commitment to customer satisfaction means that we take the time to listen to your concerns and tailor our solutions to meet your specific requirements. We work closely with your team to ensure your project is completed on time and within budget. Additionally, our service department is equipped to handle emergency repairs, so you can rely on us to be there when you need us the most.
Industrial Electrical Contractors uses only the highest quality materials and equipment and follow industry-standard safety procedures to ensure your project is completed satisfactorily. We aim to provide reliable and efficient electrical services that keep your facility running smoothly, allowing you to focus on your business with peace of mind.